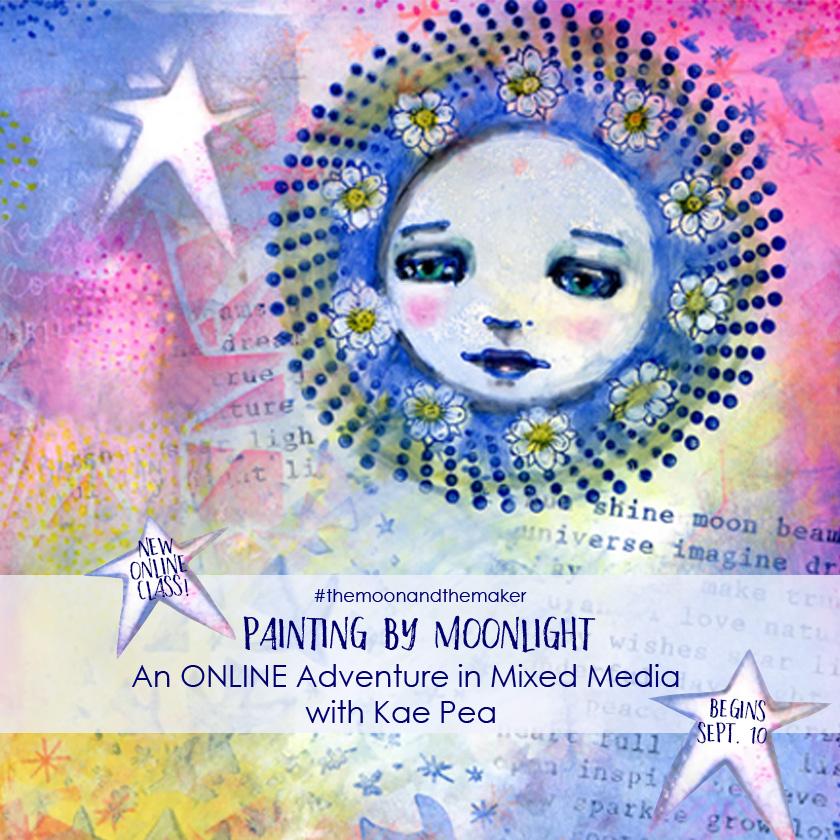 RubberMoon
Online Class | Painting by Moonlight with Kae Pea
Online Class | Painting by Moonlight with Kae Pea
Opens September 10th, 2018 
Price: $44.00
What the workshop is about :
This course will focus on using Moonlight Duo tint & hue ink pads with rubber stamps and stencils to create wonderful works of art and artful journal pages and cards. We will use, not only the materials mentioned but also a variety of substrates, such as Claybord and Stampbord but also canvas and paper. Together we will make some wonderful art and creative projects with this 'painting' with ink pads technique I have designed! We will create one 6 x 6 'painting' with a celestial theme, one 4 x 6 canvas, a small work on watercolor paper and a journal page on mixed media paper. We will explore using other imagery but focus in this class is a celestial theme.

What you receive upon sign up :
A welcome note with instructions and invitation to a private group. Access to a private Facebook page where we will interact and share questions, art and ideas (participation is optional. If you choose not to participate, I will be glad to work with you through email for feedback etc.) 
What you receive when class begins Sept 10 :
A link to private class and 4+ detailed videos with instruction and downloadable content. 
One live chat session in September
PDF's to accompany the video lessons                    
 --->Supplies:
MoonLight Duo tint & hue ink pads 
2 Ampersand Claybord 6 x 6  panels
140 lb. hot press watercolor paper
variety of stamps and stencils
*see stamps used and 'kits' below
Painting By Moonlight Class Kit | Celestial
I will provide a photo of supplies and links to everything I use on the class page following the videos.

There will be 3 lessons (some weeks may have multiple videos) :
Video 1 - Materials share, project overviews, concepts.
Video 2 - MoonLight Duo 'painting' on Claybord
Video 3 - MLD Techniques on canvas panel, hard surfaces
Video 4-  Creating cards and journal pages with MoonLight Duo 'painting'
If you have any questions please do not hesitate to email me or convo me here or message me through Facebook. Please make sure to read all the information before purchasing the class.
Thank you!

***IMPORTANT***
When you sign up and pay, PLEASE make sure I have your primary email address!!
No refunds on workshops.Thank you for understanding.
---
More from this collection