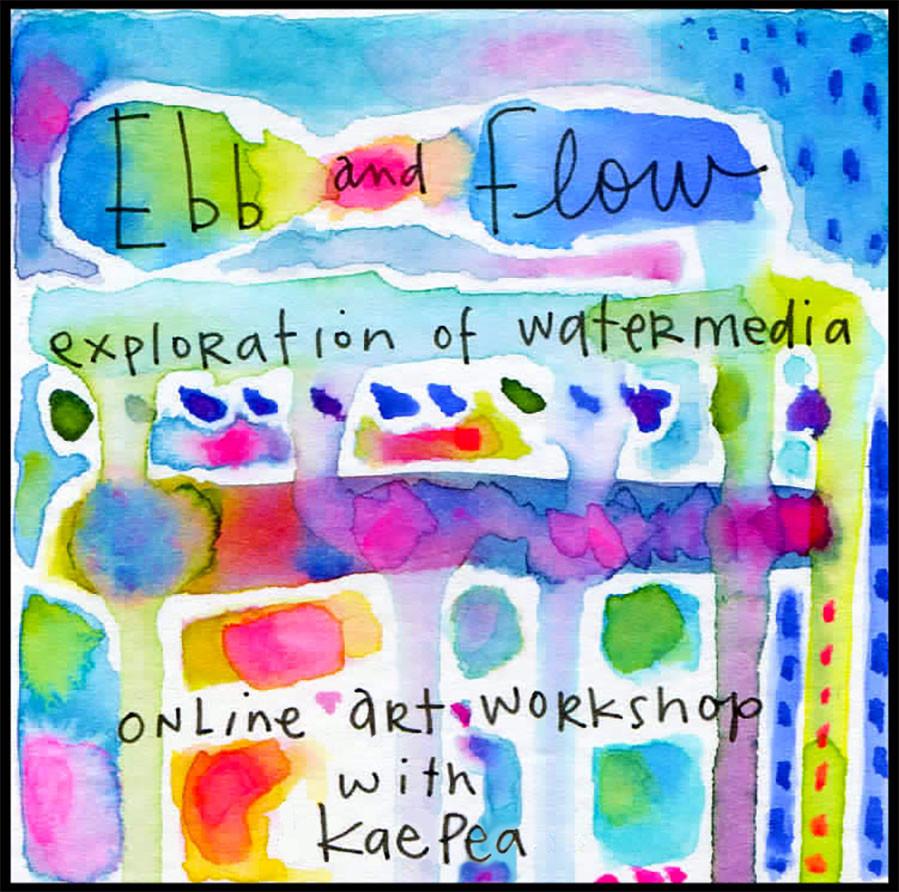 RubberMoon
Online Workshop | Ebb and Flow | w/Kae Pea
Online Workshop | Ebb and Flow | w/Kae Pea
an exploration of water media
on line interactive workshop with Kae Pea
A workshop for ALL levels!
If you are a beginner, you CAN do this (I promise)!
If you are intermediate or more advanced, you WILL learn something new and have fun!

What the workshop is about :
This course will be an artful exploration of supplies and techniques but also of our own creative habits and patterns. We will use a wide variety of water media including; watercolor pans and tubes, radiant concentrates, water soluable pencils and crayons, acrylic inks and high flow acrylics. I will share with you all that I know about these different mediums and together we will make some wonderful art. Beyond that we will also explore the push and pull of art making. What to do when you feel your creativity ebbing and how to get back into the flow.

What you receive upon signup:
A welcome note in the form of a download.
A link to private class blog and 6+ detailed videos with instruction and blog content.
Access to a private Facebook page where we will interact and share questions, art and ideas
(participation is optional. If you choose not to participate, I will be glad to work with you through email for feedback etc.)
Self guided study. You will have access to class blog and videos forever.

---->Supplies:
I have decided not to provide a detailed supply list.
It is my thought that you do not need to run out and buy a lot of materials. Watching the videos and demonstrations before you buy a bunch of stuff is my recommendation. With the basic items listed here you will be able to create along with me. Then if you decide you love what I am using, you can purchase it and make some more art!
----> Must haves: There are only 4 basic items that you must have....
Watercolor paper (140 lb. recommended)
Paintbrushes (suitable for watercolor)
Watercolor paints
Micron or Pitt pens

I will provide a photo of supplies and links to everything I use on the class blog following the videos.

There will be five lessons (some weeks may have multiple videos) :
Video 1 - materials share and masking and saved whites
Video 2 - abstracts with acrylic washes
Video 3 - radiant concentrates and feather illustration
Video 4 - layering watercolors and whimsical portraits
*Bonus video*
Video 5 - more layering watercolors and whimsical portraits

If you have any questions please do not hesitate to email me or convo me here or message me through Facebook. Please make sure to read all the information before purchasing the class.
Thank you!

***IMPORTANT***
When you sign up and pay, PLEASE make sure I have your primary email address!!
No refunds on workshops.Thank you for understanding.
---
More from this collection